References List (PDF file)
References
Angie's List
Super Service Award Winner
2009, 2010, 2011, 2012, 2013, 2014, 2015, 2016
Don't take our word for it!
Here are some of our customer testimonials:
Tadd's Review 22' X 24' garage with landscaping, custom fencing and cement slab.
Mark's Review Tear down and rebuilt 2-car garage, sidewalk and electrical.
Ann's Review Tear down for a new 2-car garage, color matched the home's vinyl siding.
Daryl's Review 20' X 24' garage including cement slab and driveway.
Scott's Review covering landscaping concrete and building a 2.5 car garage.
---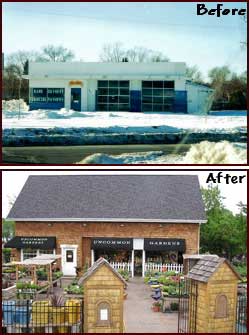 South Minneapolis:
Uncommon Gardens, 5775 Lyndale Ave S
Thanks for the nice job you did remodeling this old commercial station. You turned a neighborhood eyesore into a beautiful shop for my new business. You not only did a great job of coming up with creative solutions, you kept me informed and stayed within the budget! I was extremely pleased with the end result, as well as the constant level of communication and professionalism. Thanks again-Good luck with your future builds!
Peggy Poore - Owner of Uncommon Gardens
---
Minneapolis
6037 Dupont Ave S Mpls
22 x 22 Smartlap siding - 6" trim 18' garage door
I must say that you lived up to the comments posted on your website. Communication was excellent - thanks for being so responsive to my emails and accommodating to my requests, especially on some of the items that needed some extra coordination (tree removal, sidewalk removal) - I always felt at ease knowing I could get a hold of you easily and that you would respond quickly. Bonus points for hauling off those railroad ties too - that was a big help! I'm very happy with the way things turned out, and I would definitely recommend Minneapolis Garage to others!
Thanks for everything - best of luck on your future projects!
-Jared Jones
---
South Minneapolis
Detached 5201 @ 5205 France Ave S, 20' x 20' Vinyl siding
I thought I would take a few minutes to write you a letter and let you know how pleased I am with my new garage. I really feel that things went very smoothly. You gave me a construction timetable of two weeks and actually beat it by four days. You guys really know what you are doing! I was especially impressed and surprised to see that the same guy who gave me the bid was the lead carpenter on your framing crew. Even my neighbors remarked on the quality and speed in which the job was accomplished.
Thanks again for a job well done!
Tony Dobek
---
Robbinsdale
Detached 4131 Zenith Ave N, 2 1/2 car garage, vinyl cedar shake
As promised, here is a reference letter - you guys did a great job starting with tearing down my old garage! My neighbors commented that they didn't even know you were here and we were all impressed when we couldn't even find one nail! Thank you for your ideas and being patient with me changing my mind on size and style. You guys kept me informed of the building schedule and everything went up right on schedule. You can be proud of the fine work you do and use my garage as a reference for future jobs.
Best regards,
Scott Shepard
---
South Minneapolis
Detached 5249 44th Ave S (Cedar siding and custom gable door)
I was impressed with your company from the beginning. You listened to my needs and wants, sent me a bid, and left me alone. Your style of letting an owner call you rather than harrassing me with phone calls was preferential. My next door neighbor had a detach started to be built by your competitor at the same time and finished six weeks after my garage was completed. Your custom door on my gable looks so cool, I am very happy with your work and am sooo glad I did not go with the other company!
Sincerely,
Jim Ridinger
---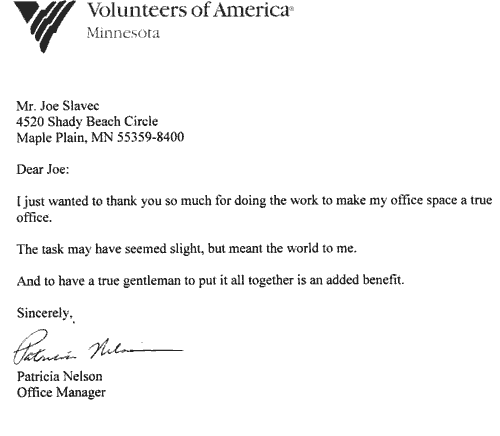 ---
Minneapolis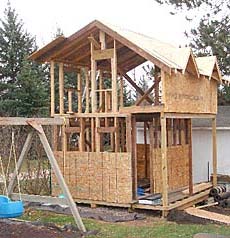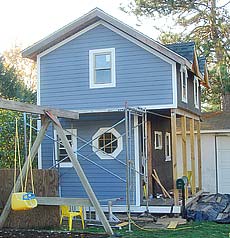 Kids Playhouse (donated lumber)
I'm the guy you so graciously gave some lumber to last Spring when you tore a garage down in Minneapolis. I was in that neighborhood a few week ago at my dentist and decided to drive by to see your work...the garage is beautiful.
I thought I'd send you a picture of what I did with the scrap lumber.... I'm not done yet with this very unconventional structure but the lumber I got from you went a long way and saved me a lot of $$ to help raise my 4 children.
Thank you very much,
Jim Sadlovsky
---
Click Here for More References (PDF file)